Distinct genetic alterations in small cell carcinoma from different anatomic sites
Experimental Hematology & Oncology
2015
4:2
Received: 19 November 2014
Accepted: 2 January 2015
Published: 14 January 2015
Abstract
Small cell carcinoma (SmCC) is a distinct clinicopathological entity first described in the lung. It represents approximately 15% of all bronchogenic carcinoma. Extrapulmonary small cell carcinoma (EPSmCC) morphologically indistinguishable from small cell lung cancer (SCLC) was first reported in 1930. Since its first description, EPSmCC has been reported in virtually all anatomical sites, including: gynecologic organs (ovary and cervix); genitourinary organs (urinary bladder and prostate); the gastrointestinal tract (esophagus); skin (Merkel cell carcinoma) and head and neck region. Regardless of the anatomic sites, all SmCCs have similar, if not identical, histo-pathology features and immunohistochemical profile. SmCC is one of the most aggressive malignancies. The molecular mechanisms underlying its development and progression remain poorly understood. Herein, we reviewed the literature in SmCC in respect to its site of occurrence, clinical features, immunohistochemical characteristics. SmCCs have heterogeneous molecular mutations. Dinstinct genetic alterations associated with SmCC from different body sites were reviewed. Some genetic alterations such as RB1, TP53 are commonly seen in different origins of SmCC. Other genes with site specificity were also summarized, such as bladder SmCC with TERT promoter mutations; prostate SmCC with ERG translocations; ovarian SmCC with SMARCA4 mutations; Merkel cell carcinoma (skin) and cervical SmCC with Merkel cell polyomavirus (MCV or MCPyV) and human papillomavirus (HPV). Further studies are needed to employ a genetically oriented approach for the diagnosis and therapy of SmCC.
Keywords
Urinary BladderSmall Cell Lung CancerUrothelial CarcinomaSmall Cell CarcinomaMerkel Cell Carcinoma
Introduction
Small-cell carcinoma ("oat-cell carcinoma") is a type of highly malignant cancer that commonly arises in the lung. Uncommonly, small-cell carcinoma arising from outside of the lungs and pleura is referred to as extrapulmonary small-cell carcinoma (EPSmCC). The diagnosis of SmCC is primarily based on path-histologic criteria: sheets, ribbons, clusters, rosettes or peripheral palisading of small to medium sized (2-4x neutrophils) round/oval cells with minimal cytoplasm, salt and pepper chromatin without prominent clumps, hyperchromatic, indistinct nucleoli, nuclear molding, smudging, frequent mitotic figures (Figure
1
A). In addition, SmCC cells show neuroendocrine differentiation and are positive for neuroendocrine tissue markers: chromogranin and synaptophysin (Figure
1
B and C). The clinical behavior of SmCC from different anatomic sites are quite similar. SmCC cells usually metastasize very early, respond dramatically to chemotherapy (CT) and radiation therapy (RT) [
1
]. Patients usually have a very poor prognosis and short survival time despite treatment. Treatment of SmCC of lung and EPSmCC is similar. However, recent evidence at molecular and genetic levels suggests that SmCC from different anatomic sites may have distinct genetic biomarkers and is a heterogenous group of diseases. This conceptual change is critical for better understanding of these aggressive malignancies and may lead to a genetically oriented approach for the diagnosis and targeted therapy of SmCC.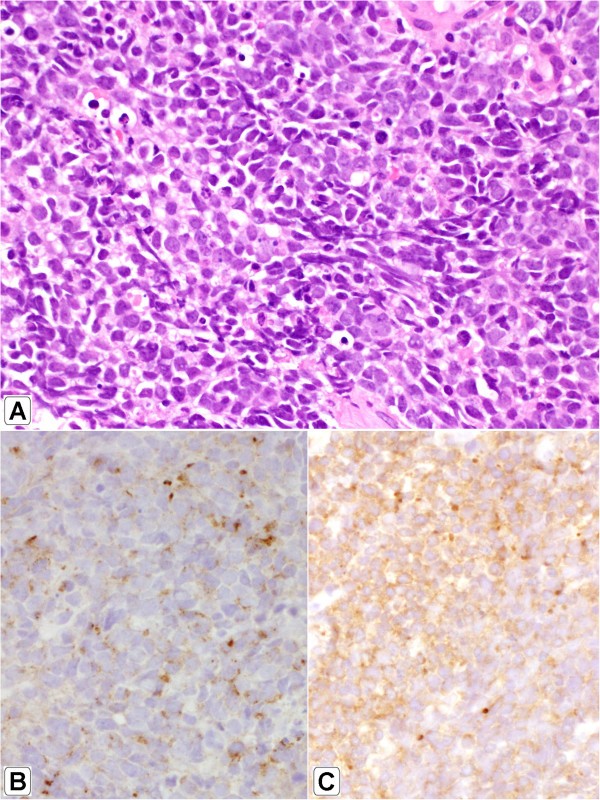 Conclusion
Current evidences strongly suggest that despite significant overlap of morphology and immunophenotype among SmCCs from different anatomic sites, SmCCs have heterogeneous molecular mutations (Table
1
). A genetically oriented approach for the diagnosis and therapy of SmCCs becomes necessary for significant clinical impact on the prognosis and therapy outcome of this heterogeneous group of aggressive malignancies.
Table 1
Gene mutations in small cell carcinoma
Location

Genes

Small cell carcinoma

Non-small cell carcinoma

Notes

Lung

TP53 mutation

80–90% [5]

40-60%

RB1 mutation

60–90% [71]

15-30%

PTEN mutation

60-90% of cases [8]

40%

PARP1 high expression

2.6 fold higher than non-Small cell carcinoma [10]

PARP-1 inhibitors as anti-cancers

Urinary bladder

TERT promoter mutation

100%

60-70%

Not see in SmCC from prostate, lung, ovary, or esophagus [10]

TP53

overexpression 54% p53 negative staining 46% [72]

TP53 mutations 14% 30%

Prostate

ERG gene rearrangements

40-60% [63]

True prostate cancer specific biomarkers: PCA3 and TMPRSS2:ERG gene fusion [73]

(TMPRSS2–ERG gene fusions)

RB1 loss

90% [68]

34% of primary 74% of met [14]

Loss of RB1 function late in prostate cancer, early in other common cancers

RAS/RAF

No report

43% of primary, 90% of met [14]

PTEN

63%[68]

4% of primary, 58% of met [14]

SCCOHT

SMARCA4 mutations

Characteristic mutation in SCCOHT

Merkel cell carcinoma

MCV clonally integrated

Characteristic integration in MCC
Authors' Affiliations
(1)
Department of Pathology, Westchester Medical Center/New York Medical College, Valhalla, USA
(2)
Henan Tumor Hospital, Zhengzhou University, Zhengzhou, China
Copyright
© Zheng et al.; licensee BioMed Central. 2015
This article is published under license to BioMed Central Ltd. This is an Open Access article distributed under the terms of the Creative Commons Attribution License (http://creativecommons.org/licenses/by/4.0), which permits unrestricted use, distribution, and reproduction in any medium, provided the original work is properly credited. The Creative Commons Public Domain Dedication waiver (http://creativecommons.org/publicdomain/zero/1.0/) applies to the data made available in this article, unless otherwise stated.