Tumor dormancy: potential therapeutic target in tumor recurrence and metastasis prevention
Experimental Hematology & Oncology
2013
2:29
Received: 10 September 2013
Accepted: 12 October 2013
Published: 16 October 2013
Abstract
In past decades, cancer patient survival has been improved with earlier detection and advancements in therapy. However, many patients who exhibit no clinical symptoms after frontline therapy subsequently suffer, often many years later, aggressive tumor recurrence. Cancer recurrence represents a critical clinical challenge in effectively treating malignancies and for patients' quality of life. Tumor cell dormancy may help to explain treatment resistance and recurrence or metastatic reactivation. Understanding the dormant stage of tumor cells may help in discovering ways to maintain the dormant state or permanently eliminate dormant residual disseminated tumor cells. Over the past decade, numerous studies indicate that various mechanisms of tumor dormancy exist, including cellular dormancy (quiescence), angiogenic dormancy, and immunologic dormancy. In this short review, we summarize recent experimental and clinical evidence for these three mechanisms and other possible tumor microenvironment mechanisms that may influence tumor dormancy.
Keywords
Tumor dormancyQuiescenceImmunologic dormancyAngiogenic dormancyTumor microenvironment
Introduction
Tumor dormancy is a recognized clinical phenomenon in which disseminated tumor cells (DTCs) remain occult, asymptomatic, and undetectable over a prolonged period of time. Dormancy can occur at the earliest stage of tumor development but also when remnant tumor cells escape treatment. Tumor dormancy may contribute to tumor progression and relapse, either locally or metastatically at distant sites, years or decades after treatment. Clinical dormancy is frequently observed in many types of tumors, such as breast cancer (BC) [1], prostate cancer (PC) [2, 3], melanoma [4, 5], and B-cell lymphoma [6, 7]. Dormant cells are characterized by their slow growth, their ability to escape frontline treatment and host immunity, and their capability to self-renew. A clinical study showed that non-proliferating cancer cells could persist during chemotherapy and were detected more frequently in BC patients with progressive disease than in patients with primary BC [8].
Three molecular mechanisms involved in tumor dormancy have been identified: cellular dormancy (quiescence or mitotic arrest), angiogenic dormancy (limited tumor size), and immunologic dormancy (immunosurveillance, balance between clearance and proliferation) (Figure
1
). The mechanisms that regulate the transition between the dormant and proliferating states are largely unknown. In addition, no dormancy markers have been well characterized. Here, we review recent findings of relevant genetic abnormalities, novel discoveries regarding tumor dormancy, and possible mechanistic links. This information should help in the development of appropriate study models and improve therapeutic approaches to prevent disease recurrence.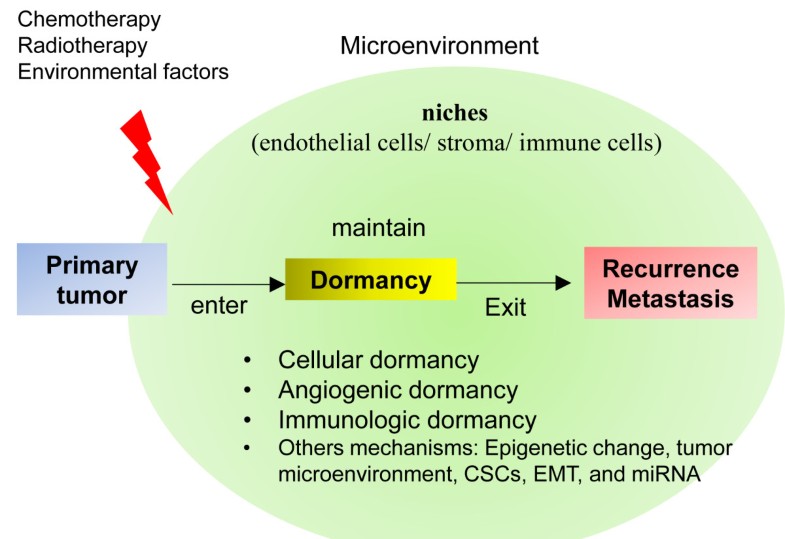 Conclusion
Several mechanisms and pathways involved in regulating tumor cell dormancy have recently been identified. However, most of these mechanisms are not specific to dormancy. In addition, the lack of suitable model systems for detecting and maintaining the dormant state creates challenges in designing systematic studies on dormancy either in vitro or in vivo. Continued investigation and discovery are needed to identify dormancy signatures and biomarkers as well as the therapeutic targets and windows for "secondary" cancer prevention after primary treatment has failed. Better understanding of tumor cell dormancy will lead to novel detection techniques in the clinic and therapeutic options to prevent deadly tumor recurrence and metastasis.
Abbreviations
BC:

Breast cancer
BM:

Bone marrow
BMP:

Bone morphogenetic protein
CDKs:

Cyclin-dependent kinases
ERK:

Extracellular signal-regulated kinase
DTC:

Disseminated tumor cell
DYRK:

Dual specificity tyrosine phosphorylation-regulated kinase
HSP27:

Heat shock protein 27
LTBP:

Latent transforming growth factor β (TGF-β) binding protein
MAPK:

Mitogen-activated protein kinase
miRNA:

MicroRNA
MuvB:

Mutil-vulval class B protein
NHEJ:

Non-homologous end joint
NPC:

Nasopharyngeal carcinoma
OPN:

Osteopontin
PC:

Prostate cancer
TGF-β:

Transforming growth factor β
TSP:

Thrombospondin
VEGF:

Vascular endothelial growth factor.
Declarations
Acknowledgements
We thank Elizabeth L. Hess and Edward Wang for manuscript editing.
Authors' Affiliations
(1)
Department of Systems Biology, Unit 950, The University of Texas MD Anderson Cancer Center, Houston, USA
Copyright
© Wang and Lin; licensee BioMed Central Ltd. 2013
This article is published under license to BioMed Central Ltd. This is an Open Access article distributed under the terms of the Creative Commons Attribution License (http://creativecommons.org/licenses/by/2.0), which permits unrestricted use, distribution, and reproduction in any medium, provided the original work is properly cited. The Creative Commons Public Domain Dedication waiver (http://creativecommons.org/publicdomain/zero/1.0/) applies to the data made available in this article, unless otherwise stated.