Current management and prognostic features for gastrointestinal stromal tumor (GIST)
Experimental Hematology & Oncology
2012
1:14
Received: 25 May 2012
Accepted: 18 June 2012
Published: 18 June 2012
Abstract
Stromal or mesenchymal neoplasms affecting the gastrointestinal (GI) tract have undergone a remarkable evolution in how they are perceived, classified, approached, diagnosed and managed over the last 30 years. Gastrointestinal stromal tumors (GIST) account for approximately 1% to 3% of all malignant GI tumors. The clinical features can vary depending on the anatomic location, size and aggressiveness of the tumor. Metastatic GIST represents a successful example of molecular targeted therapy. In this comprehensive review, we discuss the epidemiology, clinical features and diagnostic modalities for GIST. We also describe treatment options for early stage, locally advanced and metastatic GIST. Indications for neoadjuvant and adjuvant therapy along with duration of therapy are also explained. A brief discussion of latest biomarkers and updates from recent meetings is also provided.
Keywords
Overall SurvivalImatinibSorafenibSunitinibStandardize Uptake Value
Introduction
Stromal or mesenchymal neoplasms affecting the GI tract have undergone a remarkable evolution in how they are perceived, classified, approached, diagnosed and managed over the last 30 years. A major breakthrough occurred with the discovery of expression of the CD117 antigen by almost all gastrointestinal stromal tumors (GIST)[
1
]. The other group of spindle cell neoplasms arising in the GI tract includes lipomas, schwannomas, hemangiomas, usual leiomyomas and leiomyosarcomas are typically CD117-negative [
2
]. The CD117 molecule is part of the KIT (c-kit) receptor tyrosine kinase that is a product of the KIT proto-oncogene (Figure 
1
). GIST research and clinical care sets another great example of translational research that turns laboratory discovery to successful clinical application. From this fundamental mechanistic understanding of GIST, a series of worldwide investigations and trials have developed novel and effective ways to approach patients with this disease. In this review, we discuss the basics of GIST and highlight recent advances and their relevance to current clinical practice as well as future directions.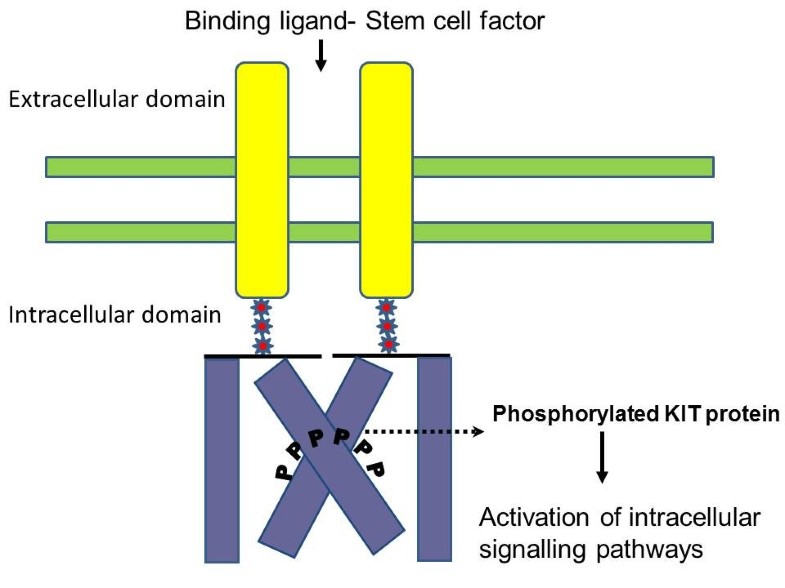 Conclusions and future directions
With the molecular signature of CD117/KIT mutation, GIST has provided a great model for targeted therapy. Novel targeted agents are being explored [1]. Combination therapy of TKI inhibitors either concurrently or sequentially with agents of different classes may have synergistic effects. It is therefore predictable that further clinical research by combining agents with novel mechanisms of action for this challenging malignancy will be forthcoming [121–124].
Declarations
Acknowledgements
This study was partly supported by the NYMC Blood Diseases fund (DL).
Authors' Affiliations
(1)
Division of Oncology/Hematology, New York Medical College and Westchester Medical Center, Valhalla, USA
Copyright
© Lamba et al.; licensee BioMed Central Ltd. 2012
This article is published under license to BioMed Central Ltd. This is an Open Access article distributed under the terms of the Creative Commons Attribution License (http://creativecommons.org/licenses/by/2.0), which permits unrestricted use, distribution, and reproduction in any medium, provided the original work is properly cited.