Effectiveness of AMD3100 in treatment of leukemia and solid tumors: from original discovery to use in current clinical practice
Experimental Hematology & Oncology
2016
5:19
Received: 25 May 2016
Accepted: 8 July 2016
Published: 16 July 2016
Abstract
AMD3100, also known as plerixafor, was originally developed as an anti-human immunodeficiency virus (HIV) drug, and later characterized as a C-X-C chemokine receptor type 4 (CXCR4) antagonist. Previous reviews have focused on the application of AMD3100 in the treatment of HIV, but a comprehensive evaluation of AMD3100 in the treatment of leukemia, solid tumor, and diagnosis is lacking. In this review, we broadly describe AMD3100, including the background, functional mechanism and clinical applications. Until the late 1990s, CXCR4 was known as a crucial factor for hematopoietic stem and progenitor cell (HSPC) retention in bone marrow. Subsequently, the action and synergy of plerixafor with Granulocyte-colony stimulating factor (G-CSF) led to the clinical approval of plerixafor as the first compound for mobilization of HSPCs. The amount of HSPC mobilization and the rapid kinetics promoted additional clinical uses. Recently, CXCR4/CXCL12 (C-X-C motif chemokine 12) axis was found to be involved in a variety of roles in tumors, including leukemic stem cell (LSC) homing and signaling transduction. Thus, CXCR4 targeting has been a treatment strategy against leukemia and solid tumors. Understanding this mechanism will help shed light on therapeutic potential for HIV infection, inflammatory diseases, stem-cell mobilization, leukemia, and solid tumors. Clarifying the CXCR4/CXCL12 axis and role of AMD3100 will help remove malignant cells from the bone marrow niche, rendering them more accessible to targeted therapeutic agents.
Keywords
AMD3100PlerixaforLeukemiaBreast cancerTumor
Background
In 1981, the US Centers for Disease Control and Prevention (CDC) published the first official report on the acquired immune deficiency syndrome (AIDS) epidemic. The identification of human immunodeficiency virus (HIV) as the causative agent for AIDS in 1985 spurred a massive search for inhibitors of the retrovirus. Rozenbaum et al. [1] reported in vivo efficacy of a polyoxometalate, HPA-23, that inhibited HIV levels in patients with AIDS. This evidence triggered a search for other analogues more effective in suppressing HIV levels. In 1990, De Clercq et al. [2] (the pioneer of AMD3100, from Rega Institute of Leuven, Belgium), in collaboration with investigators at Johnson Matthey, discovered bicyclam JM1657 (JM; Johnson Matthey) as an active anti-HIV agent. Attempts to re-synthesize JM1657 failed, but a new analogue of JM3100, later renamed AMD3100 (AMD; AnorMED, spun off from Johnson Matthey) was successfully synthesized in 1994 [3]. They found AMD 3100 inhibited HIV within a 1–10 nM range. The mechanism of action was thought to be the inhibition of viral replication at the time.
Leading up to 1996, Donzella et al. [
4
] and Schols et al. [
5
] demonstrated that AMD3100 blocks HIV-1 entry and membrane fusion via specific targeting of the C-X-C chemokine receptor type 4 (CXCR4) co-receptor of the T-lymphotropic X4 strain (Fig.
1
). It was not active against the M-macrophage tropic R5 strains, which are a CCR5-using population. These in vivo studies highlighted the effectiveness of AMD3100 against X4 HIV-1 infection. In 1996, Datema et al. [
6
] first demonstrated AMD3100 efficacy in severe combined immunodeficiency (SCID)-hu Thy/Liv mice infected with a clinical isolate of X4 HIV-1. Small animal in vivo results encouraged Phase I/II clinical studies. In 2000, Hendrix et al. [
7
] first reported the pharmacokinetics and safety of AMD3100 in human volunteers. These clinical data clearly showed AMD3100 effective in suppressing X4 HIV-1 levels in HIV-1-infected individuals.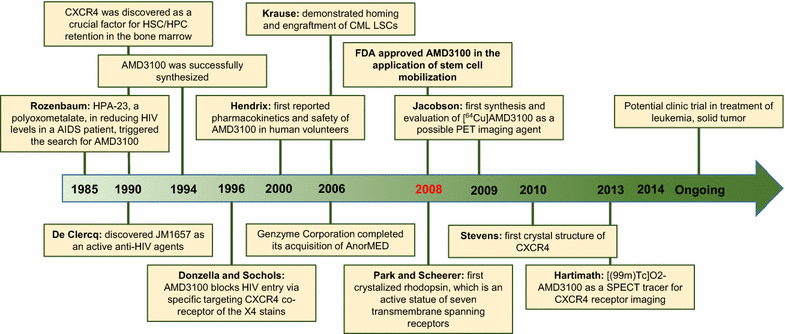 During clinical trials, reduced X4 HIV-1 levels in HIV-infected volunteers were observed, as expected [8]. However, researchers noticed elevated white blood cell (WBC) counts. This unexpected observation was later translated in AMD3100 as an application to mobilize hematopoietic stem cells (HSCs). In 2006, Genzyme Corporation completed its acquisition of AnorMED (Fig. 1). Phase I studies demonstrated that AMD3100 had minimal side effects and effectively mobilized CD34+ HSC in both healthy volunteers and patients heavily pretreated with anti-tumor drugs. Phase II results built a compelling case of efficacy and safety. Two phase III, multicenter, double-blind, randomized, and placebo-controlled studies compared the safety and efficacy of AMD3100. Together, these trials provided sufficient evidence for the US Food and Drug Administration (FDA) approval of plerixafor (Mozobil, Genzyme Corp.; AMD3100) in 2008 (Fig. 1). AMD3100 proved an extremely specific and effective CXCR4 antagonist. However, AMD3100 is not limited to mobilization of HSCs. It is also used for a variety of disorders that depend on the interplay of CXCR4 with its agonist CXCL12 (also called: SDF-1) including leukemia and breast cancer.
Molecular pharmacology of AMD3100 in blocking CXCR4
AMD3100 is strongly basic at physiological PH due to four primary amines in each cyclam ring. X-ray data show the protonated cyclam ring has a tendency to form complexes with carboxylic acid groups via hydrogen bonds [9].
CXCR4 belongs to the largest family of proteins in the human genome, named seven transmembrane spanning receptors (7TM receptors) (Fig.
2
a). Schwartz et al. [
10
] described activation of 7TM receptors in the Global Toggle Switch Model (Fig.
3
). The crystal structure of the inactive and active states of CXCR4 was vital information in understanding 7TM receptor activation. In 2008, Park and Scheerer et al. [
11
,
12
] provided strong evidence to the switch theory by crystalizing rhodopsin, presumed to be an active state representation. This crystal structure demonstrated that compared to the inactive state, the cytoplasmic half of transmembrane domain VI (TM-VI) is tilted outwardly away from the helical bundle by 6–7 Å. In 2010, the first crystal structure of CXCR4 was described by Stevens and coworkers [
13
]. The authors described the distinct differences between the structure of CXCR4 and other published crystal structure of 7TM.


Crystal structure data proved to be powerful, but limited in that they are snapshots of the inactive or active states, not sufficient when describing the dynamic process of activation. Therefore, functional receptor studies were needed. Several studies focused on the negatively charged domains of AMD3100 facing the binding pocket of CXCR4. In 2011, Gerlach et al. [14] performed a mutagenesis study of all aspartate residues facing the binding pocket of CXCR4. By testing all the mutants in competition binding, two aspartate residues were found in the extracellular ends of TM-IV (Asp171) and TM-VI (Asp262) associated with binding of AMD3100. These findings led to a proposal of the interaction model, in which AMD3100 spans the ligand-binding pocket and each cyclam ring binds to aspartate residues located at the extracellular ends of TM. Rosenkilde et al. [15] conducted comprehensive mutational substitutions of 16 residues located in TM-III, TM-IV, TM-VI, and TM-VII of CXCR4. They found AMD3100 not only depends strongly on two aspartate residues, as previously mentioned (Asp171 and Asp262), but also a glutamate (Glu288) in TM-VII. The combination of three acidic residues is a unique structure to CXCR4, which explains AMD3100′s high selectivity [16]. Given that mutational analysis did not reveal which side chains, or surrounding amino acids in proximity with the aromatic linker, are involved in AMD3100-interactions, a binding model of AMD3100 was suggested. The hypothesis suggests one cyclam ring interacts with the aspartate in TM-IV, while the other is located between the aspartate in TM-VI and the glutamate in TM-VII. The linker then acts as a constraint, preventing TM-VI from moving inward and into an active conformation.
Conclusion
The development of bicyclam AMD3100 follows a meandering pathway, starting from a serendipitous discovery of an impurity in a commercial cyclam preparation to its original development as an HIV entry inhibitor, and finally leading to an FDA approved product, AMD3100, in the application of stem cell mobilization. Potential clinical applications of AMD3100 are currently being evaluated in several trials with great promise. The advantages of AMD3100 over other CXCR4 antagonists are listed in Table
1
.
Table 1
Comparison of AMD3100 with other CXCR4 antagonists on the development
CXCR4 antagonist

Source

Target profile

Advantage

Citation

Primary targets

Activity

AMD3100

Compound

TM-IV (Asp171), TM-VI (Asp262), and TM-VII (Glu288)

IC50 = 2–20 nM

The only approved CXCR4 antagonist; no species specific, thus studies of AMD3100 in mouse, canine, monkey, and cell lines have translated into human clinical studies quickly

EPI-X4

Endogenous peptide

The positively charged face of the ring of EPI-X4 interacts with the negatively charged extracellular face of CXCR4

IC50 = 8.6 ± 3.1 µM

Endogenous antagonist; no cytotoxity

Zirafi et al. [74]

KRH-3955

Compound

Binding sites of KRH-3955 are located in a region composed of all three extracellular loop (ECLs) of CXCR4

IC50 = 0.61 nM

Administered orally with much more potent anti-HIV-1 activity than AMD3100 and KRH-1636

Murakami et al. [75]

POL5551

Compound

Similar to plerixafor, POL5551 bound to the extracellular loops but not to the N-terminal moiety recognized by 1D9

IC50 of 12G5 binding at 1 h ≤2.5 nM

POL5551 is a potent antagonist of surface CXCR4 in pre-B and T cell ALL cell lines

LY2510924

Compound

LY2510924 occupied a binding pocket and possessed ligand–receptor interactions with CXCR4 residues such as Asp187, Arg188, Gln200, His113, and Tyr190

IC50 = 0.079 nM

Phase II clinical studies for cancer

Peng et al. [78]
The success of AMD3100 follows the typical pathway of drug discovery process that involves identification of target, screening process, lead development, and then preclinical trials. The following steps are essential to fulfill the final approval of AMD3100. First, an illustration of a detailed molecular pharmacology of AMD3100 in blocking CXCR4 is needed. Second, an understanding of the role of CXCR4/CXCL12 axis interaction in the HSC's homing and engraftment is demonstrated. Thus, AMD3100 provided a novel strategy to enhance donor cell engraftment and recovery following transplantation. Third, understand how the CXCR4/CXCL12 axis is involved in tumor functions, such as how LSC homing and signaling transduction helped translate findings into additional clinical uses in leukemia and solid tumors.
AMD3100 has demonstrated clinical efficacy in the context of mobilization of HSCs and HPCs, and triggered other clinical uses with great promise. One critical reason is that AMD3100 is not species specific, thus studies of AMD3100 in mouse, canine, monkey, and cell lines have translated into human clinical studies quickly. However, researchers need to consider that circadian rhythms influence circulating levels of HSCs and HPSs [73]. It is critical to control the timing of AMD3100 administration in the context of therapeutic use. In addition, side effects after long-term administration add potential problems. Shorter-term usage and lower dose would be fundamental keys to the success in clinical use.
Abbreviations
AIDS:

acquired immune deficiency syndrome
AML:

acute myelogenous leukemia
BMSC:

bone marrow stromal cell
CDC:

Centers for Disease Control and Prevention
CLL:

chronic lymphocytic leukemia
CML:

chronic myeloid leukemia
CXCR4:

C-X-C chemokine receptor type 4
FDA:

Food and Drug Administration
G-CSF:

granulocyte-colony-stimulating factor
HIV:

human immunodeficiency virus
HPC:

hematopoietic progenitor cell
HSC:

hematopoietic stem cell
HSCT:

hematopoietic stem cell transplantation
JAK:

Janus kinase
LSC:

leukemic stem cell
MRD:

minimal residual disease
MTD:

maximum tolerated dose
PBSCT:

peripheral blood stem cell transplantation
SCID:

severe combined immunodeficiency
STAT:

signal transducer and activator of transcription
TKI:

tyrosine kinase inhibitor
Declarations
Authors' contributions
LD designed the conception; TL, XL, and LD wrote the paper, SY, GC, and SSB revised it critically for important intellectual content. All authors read and approved the final manuscript.
Acknowledgements
We acknowledge the dedicated editing and comments from Dr. Austin Cape at ASJ Editors. We thank the support in figure generation from Fan Liu at Merck Serono Co., Ltd and design from Mu Ma at Focus Design Interiors, Inc.
Competing interests
The authors declare that they have no competing interests.
Funding
This work was supported in part by grants from the National Natural Science Foundation of China (NNS81201808, NNS81502544) and General Financial Grant (No. 2016M591397) from China Postdoctoral Science foundation.
Ethical approval and consent to participate
As this is a review article, this study was exempt from institutional review board.
Open AccessThis article is distributed under the terms of the Creative Commons Attribution 4.0 International License (http://creativecommons.org/licenses/by/4.0/), which permits unrestricted use, distribution, and reproduction in any medium, provided you give appropriate credit to the original author(s) and the source, provide a link to the Creative Commons license, and indicate if changes were made. The Creative Commons Public Domain Dedication waiver (http://creativecommons.org/publicdomain/zero/1.0/) applies to the data made available in this article, unless otherwise stated.
Authors' Affiliations
(1)
Division of Hematology/Oncology, Department of Pediatrics, Aflac Cancer and Blood Disorders Center, Emory University School of Medicine, Atlanta, USA
(2)
Department of Oncology, The Affiliated Jiangyin Hospital of Southeast University Medical College, Wuxi, People's Republic of China
(3)
Tianjin Key Laboratory of Molecular Design and Drug Discovery, Tianjin Institute of Pharmaceutical Research, Tianjin, China
(4)
Department of Neurosurgery, Winship Cancer Institute, Emory University, Atlanta, USA
(5)
School of Public Health, Division of Health Systems, Management, and Policy, The University of Memphis, Memphis, USA