Novel agents and strategies for overcoming EGFR TKIs resistance
Experimental Hematology & Oncology
2014
3:2
Received: 8 October 2013
Accepted: 31 December 2013
Published: 11 January 2014
Abstract
Since the recognition of epidermal growth factor receptor (EGFR) as a therapeutic target, EGFR tyrosine kinase inhibitors (TKIs) have been used in lung cancer patients with EGFR mutations, which has been a major breakthrough for lung cancer treatment.. The progression-free survival (PFS) of patients with EGFR mutations treated with EGFR TKIs is significantly prolonged compared with that of patients who underwent standard chemotherapy. However, all patients who initially respond to EGFR TKIs eventually develop acquired resistance (AR). Many small molecule agents and monoclonal antibodies (McAb) targeting signaling pathways are potential therapeutic regimens for overcoming resistance, and various therapeutic strategies are used in clinical practice. Here we review the novel agents and therapeutic strategies for overcoming AR to EGFR TKIs.
Keywords
Non-small cell lung cancerEGFR TKI acquired resistanceNew agentsIMPRESSASPIRATION
Introduction
Non-small cell lung cancer (NSCLC) accounts for approximately 80% of all lung cancer cases [1]. The traditional treatment for NSCLC is platinum-based chemotherapy, which inhibits normal and cancer cells, but it has reached a therapeutic plateau [2]. In contrast, personalized therapy has numerous advantages [3]. The ERBB family includes EGFR/HER1, ERBB2/HER2, ERBB3/HER3 and ERBB4/HER4. Somatic EGFR mutations result in conformational changes and the activation of downstream signaling. Gefitinib and erlotinib are first-generation EGFR TKIs that reversibly compete with the ATP-binding site in the EGFR. Gefitinib/erlotinib (G/E) prolongs progression-free survival (PFS) and improves quality of life compared with standard chemotherapy, while almost all patients develop AR to G/E in 9 to 11 months [4].
The mechanisms responsible for AR to G/E include the following: first, secondary EGFR mutation, which is predominantly T790M; second, activation of parallel signaling pathways; third, activation of downstream signaling pathways; fourth, phenotypic transformation, such as epithelial to mesenchymal transition (EMT) and small cell lung cancer (SCLC) transformation. We will discuss the mechanisms of AR to G/E and corresponding novel targeting agents (Figure
1
). The potential therapeutic options for patients with AR to EGFR TKIs are also reviewed.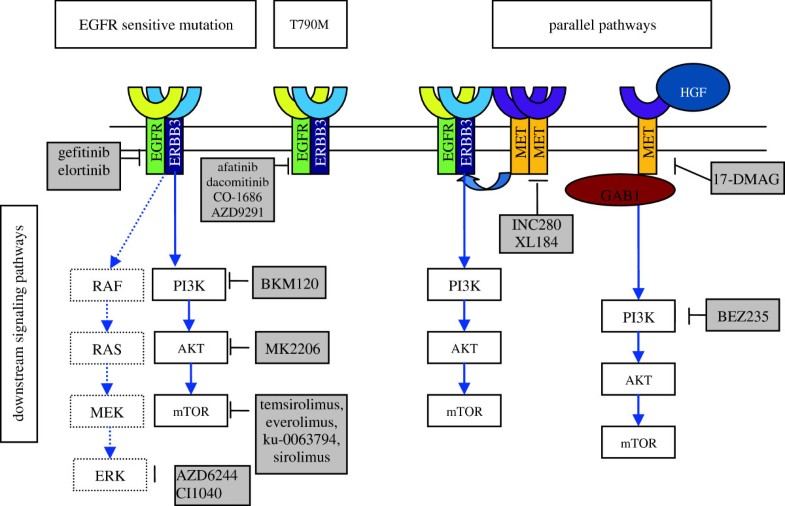 New agents for overcoming AR
Strategies for overcoming AR
IMPRESS model
Some patients may have accelerated disease progression after discontinuing G/E during washout periods. This phenomenon is called disease flare, which was observed in 23% of patients with AR [34]. To avoid disease flare, some clinicians suggest G/E continuation plus chemotherapy. There was a retrospective study demonstrating that erlotinib continuation in addition to chemotherapy significantly improved the respond rate (RR) compared with chemotherapy alone after erlotinib failure [35]. IMPRESS is an ongoing phase III trial enrolling patients with EGFR mutations who failed first-line gefitinib. The patients are randomized to receive cisplatin and pemetrexed plus gefitinib or placebo. The primary endpoint of this study is PFS, and the results are pending.
ASPIRATION model
As EGFR TKIs greatly improve the PFS of patients with EGFR positive mutations, the RECIST definition of progression now appears to be challenged. Recently Yang et al. reported a retrospective study that divided patients with AR into three groups: dramatic progression, local progression and gradual progression. The authors recommended chemotherapy for patients with dramatic progression, the continuation of TKIs plus local intervention for those with local progression and the continuation of TKIs for those with gradual progression [36]. ASPIRATION is an ongoing phase II study evaluating the continuation of erlotinib beyond RECIST PD in selected patients who have slowed PD (>6 months of partial response/stable disease), asymptomatic minimal PD, or new, locally controlled brain metastases.
Switching to or combining with novel compounds
With the unveiling of the underlying mechanisms of AR, novel small molecule inhibitors alone or in combination will be effective in overcoming AR e.g., INC280 plus gefitinib or erlotinib as mentioned above. Therefore, we should recommend that patients receive rebiopsies after progression on G/E to identify the underlying mechanisms of AR. Based on the understanding of resistance mechanisms, clinicians should encourage patients to enter clinical trials.
Conclusion
EGFR TKIs are increasingly used in the clinic. The standard treatment for patients with AR to EGFR TKIs is changing to chemotherapy at RECIST progression. However, this standard treatment is now being challenged due to a growing number of effective novel compounds and clinical trial strategies.
Abbreviations
EGFR:

Epidermal growth factor receptor
TKIs:

Tyrosine kinase inhibitors
PFS:

Progression-free survival
AR:

Acquired resistance
McAb:

Monoclonal antibodies
G/E:

Gefitinib/erlotinib
EMT:

Epithelial mesenchymal transition
SCLC:

Small cell lung cancer
OS:

Overall survival
PR:

(Partial response)
CR:

Complete response
SD:

Stable disease
HSP90:

Heat shock protein 90
RR:

Response rate.
Authors' Affiliations
(1)
Guangdong Lung Cancer Institute, Guangdong General Hospital & Guangdong Academy of Medical Sciences, Guangzhou, PR China
Copyright
© Niu and Wu; licensee BioMed Central Ltd. 2014
This article is published under license to BioMed Central Ltd. This is an Open Access article distributed under the terms of the Creative Commons Attribution License (http://creativecommons.org/licenses/by/2.0), which permits unrestricted use, distribution, and reproduction in any medium, provided the original work is properly cited. The Creative Commons Public Domain Dedication waiver (http://creativecommons.org/publicdomain/zero/1.0/) applies to the data made available in this article, unless otherwise stated.